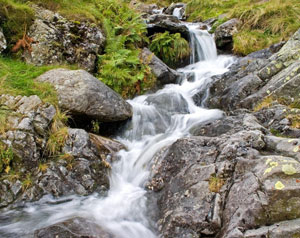 I remember reading about a concept from Taoism called Wei Wu Wei. Roughly translated it means "action without action", or "effortless action". In the same way that running water naturally and effortlessly flows around obstacles, so should our actions be thoughtful and mindful, but effortless.
Bruce Lee, when describing his martial art Jeet Kune Do, said:
"Be like water making its way through cracks. Do not be assertive, but adjust to the object, and you shall find a way round or through it. If nothing within you stays rigid, outward things will disclose themselves."
Software development process is like this: like water. The path from concept to released software is a flowing stream, and as product creators it is our responsibility to ensure that it can flow easily and effortlessly.
Your product development process can either help the stream flow, or it can create dams. A broken development server, for example, is a dam. A bureaucratic and document-heavy change management process is a dam. Dams create tension and confusion. Dams create waste.
Focus on avoiding wasteful process. Tear down dams.
Be like water.