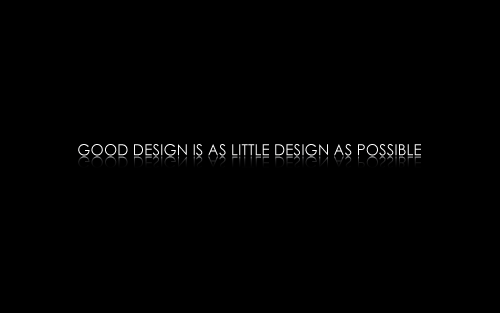 In the 1970's renowned German designer Dieter Rams defined ten design principles that embodied his view of design and product development.
He said:
Good design should be innovative.
Good design makes a product useable.
Good design is aesthetic design.
Good design makes a product understandable.
Good design is honest.
Good design is unobtrusive.
Good design is long-lasting.
Good design is consistent in every detail.
Good design is environmentally friendly.
Good design is as little design as possible.
Timeless.

(The translation is mine from the original German, but I'm sure there are countless others, including on wikipedia.)
Original German version:
Gutes design sollte innovativ sein.
Gutes design macht ein Produkt brauchbar.
Gutes design ist ästhetisches Design.
Gutes design macht ein Product verständlich.
Gutes design ist ehrlich.
Gutes design ist unaufdringlich.
Gutes design ist langlebend.
Gutes design ist konsequent, bis ins letzte Detail.
Gutes design ist umweltfreundlich.
Gutes design ist so wenig design wie möglich.
You can download the image above as a desktop wallpaper in English or the orignal German.