In 1955 Henry Dreyfuss, one of the most influential industrial designers of the 20th century, in his book "Designing for People" wrote the following :
"The successful performer in this new field is a man of many hats. He does more than merely design things. He is a businessman as well as a person who makes drawings and models. He is a keen observer of public taste and he has painstakingly cultivated his own taste. He has an understanding of merchandising, how things are made, packed, distributed, and displayed. He accepts the responsibility of his position as liaison linking management, engineering, and the consumer and co-operates with all three."
Clearly this sentiment is as relevant for designers today as it was 55 years ago when it was written. It's also interesting how the description rings true for product managers. In fact, I couldn't have come up with a better description of the modern-day product manager if I tried.
Product management is more than schedules, roadmaps and powerpoints. Product management is about identifying a need and building a solution. It's about understanding people (users) and understanding "how things are made".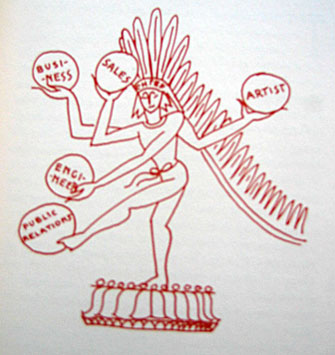 "From the book
Designing for People
– Dreyfuss's sketch of the multi-skilled designer.