What's the difference between a cheetah and a gazelle?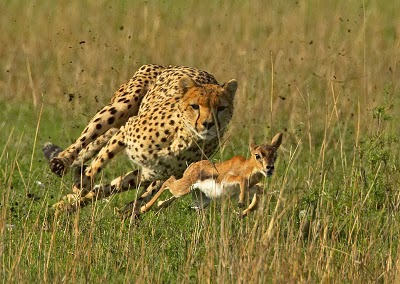 One is the hunter; the other, the hunted. One stalks and sprints with total precision, unwavering focus and ultimate confidence. The other flees in uncontrolled panic.
When we're exposed to pressure within an organisation, it is normally in the form of a risk or a threat: the risk of losing a big client; the chance we won't get funding; the fear of losing our jobs.
The fact is that all mammals, including humans, are really good at panicking. In fact, we're designed for it. Buried deep inside the oldest part of our brain is a brain region called the limbic system. In evolutionary terms, the limbic system existed long before we first picked up a rock and used it to hit something. It's the part of our brain responsible for basic survival; it's the part that takes over when we're scared, angry, lusting for revenge or when we're threatened.
When we feel threatened, our limbic brain sends some signals to a part of our central nervous system called the sympathetic nervous system, which activates the so-called "fight or flight response". Our conscious brain (the cerebrum) more or less shuts down and the limbic brain takes the wheel. It will decide whether we flee or whether we fight.
This is the response that leads us to panic. But when we panic, we lose focus. All our effort goes into outrunning the cheetah… but a gazelle can't eat, drink or make baby gazelles when it's fleeing a chasing cheetah.
If we spend all our time running, we don't focus on the important things. We might increase speed but we end up losing velocity.
We all have many reasons to panic… The market is moving quicker than ever. Markets and industries change and heave, companies rise to incredible heights or crash to the floor in a fraction of the time of 20 or even 10 years ago. We have to move with urgency if we want to keep up… but urgency isn't panic.
Urgency is controlled. Urgency is precision, focus and confidence.